NOV 22nd - 28th, 2021 @ NYS BREWERIES
Get limited edition 2021 NYS Pint Days glassware from participating breweries Monday 11/22 - Sunday 11/28 while supply lasts.
Your purchase helps us help breweries.
The 2nd Annual New York State Pint Days is a statewide event where $1 per glass directly supports the New York State Brewers Association & its sub-guilds' mission to unify, protect, & propel the state's nearly 500 independent craft breweries through advocacy, education, and promotion.
#thinkNYdrinkNY #NYSpintdays
Each year the NYS Pint Days Glass features a unique design that celebrates New York State craft beer. Get your hands on the annual collector's glass before it's too late. Once they're sold-out, they are gone forever and will not be reproduced.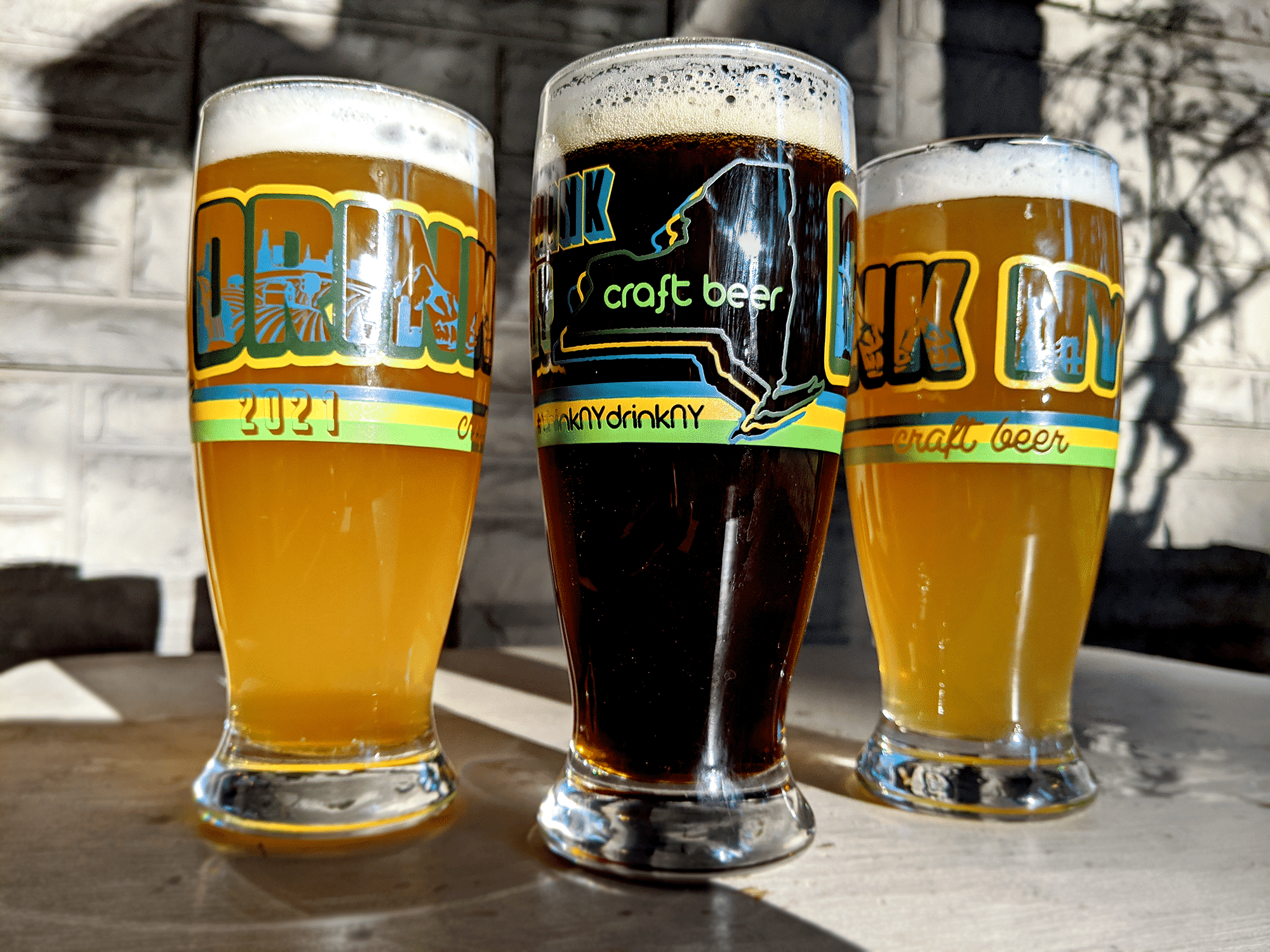 The 2021 design features symbolic elements that represent each of the state's diverse regions, see if you can spot yours!
Western New York
42 North Brewing
Five & 20 Spirits & Brewing
Big Ditch Brewing Company
Eli Fish Brewing
Hamburg Brewing Co.
Rusty Nickel Brewing
TIL Brewing
Westhampton Beach Brewing Co.
WindyBrew
Finger Lakes
Abandon Brewing Company
Brewery Ardennes
Big aLICe Brewing FLX
Fairport Brewing Co.
Little Lake Brewing
Lunkenheimer Craft Brewing
No BS Brewing Company
Peacemaker Brewing Company
Prison City Brewing
Roc Brewing Co.
Rohrbach Brewing Co.
Scale House Brewery
War Horse Brewing Co.
WeBe Brewing Co.
Southern Tier
Liquid Shoes Brewing
Capital Region
Argyle Brewing Company
Artisanal Brew Works
Bye-i Brewing
CH Evans Brewing
Rare Form Brewing Co.
Shmaltz Brewing
Wolf Hollow Brewing Co.
Mohawk Valley
Council Rock Brewery
High Burl Brewery
Central New York
Anything But Beer
Brewery Ommegang
Erie Canal Brewing Co.
Freight Yard Brewing
Full Boar Craft Brewery
Heritage Hill Brewery
Meier's Creek Brewing Co.
Seneca Street Brew Pub
Stout Beard Brewing Co.
Willow Rock Brewing
North Country
Big Slide Brewery
Bolton Landing Brewing Co.
Boots Brewing Co.
Lake Placid Pub & Brewery
Paradox Brewery
Hudson Valley
Black Snake Brewing Company
Chatham Brewing Co.
Honey Hollow Brewing Co.
Hudson Ale Works
Long Lot Farm Brewery
Mill House Brewing Company
Newburgh Brewing Co.
Sing Sing Kill
Wolf & Warrior Brewing Co.
NYC
Big aLICe Brewing (Brooklyn & Queens)
Circa Brewing Co.
Greenpoint Beer & Ale
Long Island
1940's Brewing Company
Barrier Brewing Co.
Greenport Brewing Company
Lithology Brewing Co.
Montauk Brewing Company
Noble Savage Brewing Co.
North Fork Brewing Co.
Old Tappan Brewing Company
Saint James Brewery
Six Harbors Brewing
Small Craft Brewing Company
South Shore Craft Brewery
Spiderbite Brewing
Tradewinds Brewery
BREWERIES: Contact chloe@newyorkcraftbeer.com to participate in NYS Pint Days.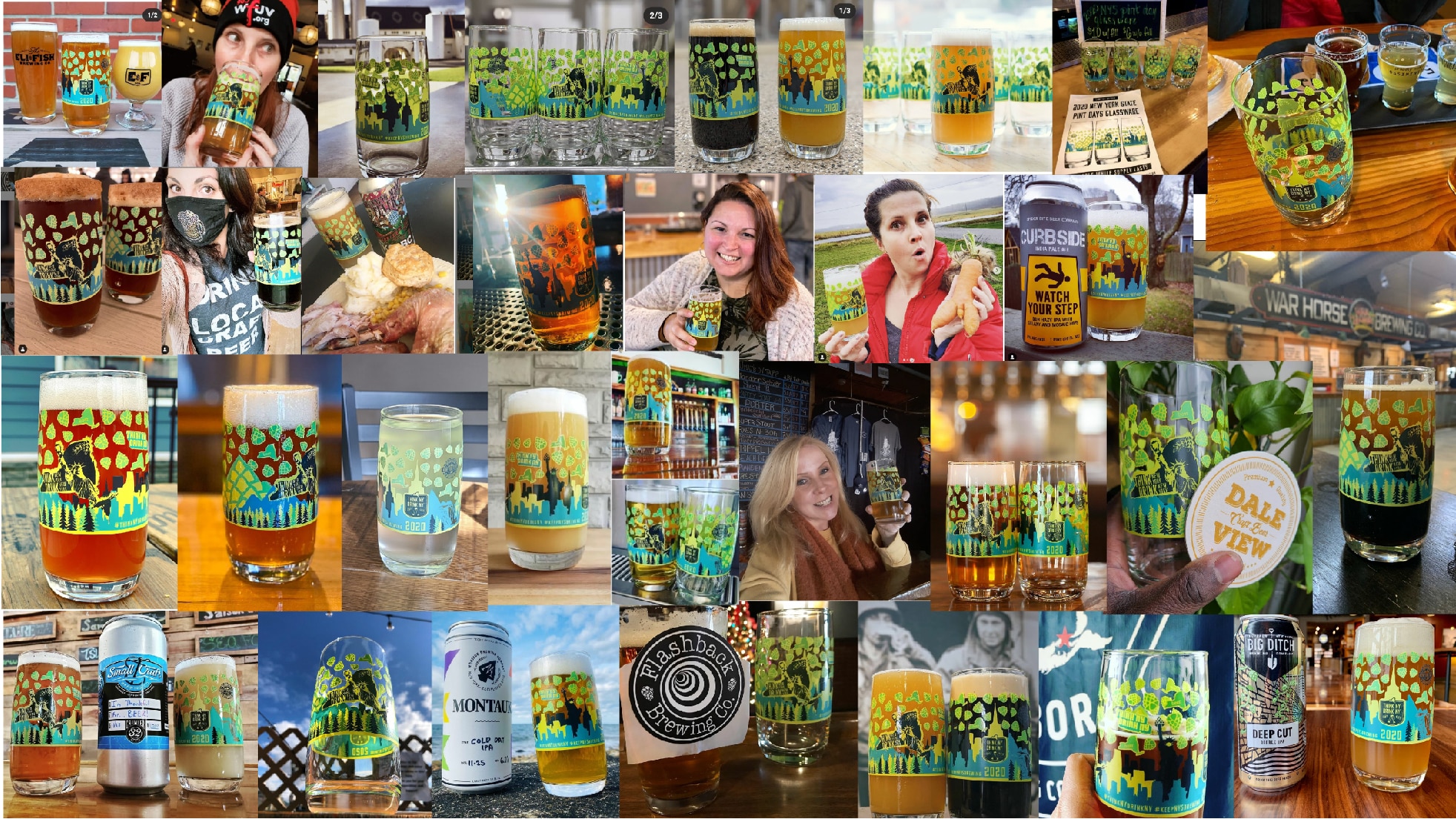 Last year craft beer enthusiasts purchased over 15,000 glasses from NYS breweries during the 1st Annual NYS Pint Days and raised thousands of dollars to support the industry. The 2020 design was awarded a Gold Crushie in the international Craft Beer Marketing Awards.