Think NY, Drink NY is the rallying cry and enthusiast side of the New York State Brewers Association. Only with the support of craft beer fans, like you, is New York #2 in the US for craft beer.
You play a critical role in the growth of the craft beer industry.
Show your support by...
Purchasing beer crafted in New York State.
Visit NYS breweries & taprooms.
Attend NYSBA festivals & events.
Download the Official New York State Craft Beer App. It's free, offers a map of every brewery in the state, and allows you to earn free beer gear!
Purchase Think New York, Drink New York merch.
ABOUT THE NYSBA
The New York State Brewers Association (NYSBA) is a non-profit organization that supports the craft beer industry through advocacy, education, and promotion.
Today, there are more licensed breweries in NYS than at any other point in history. The NYSBA works to unify the industry in order to have continued success legislatively, ensuring a positive economic environment for breweries to thrive.
The NYSBA produces a number of events including: New York Craft Brewers Festivals, NYS Virtual Tasting Experiences, and the PEACE LOVE BEER & Music Festival. NYSBA events are fundraisers whereby profit is used to directly support the craft beer industry and these festivals are an opportunity to connect directly with the people making the beer you love.
Please consider donating to Keep NYS Brewing.
Fighting for temporary permitance of services like home delivery, curbside pickup, and shipment of beer are a few of the ways the NYSBA has been able to help NYS breweries remain open during the Covid-19 pandemic.
Your contribution is appreciated, and will allow the NYSBA to continue to support the beer community through these difficult times and beyond.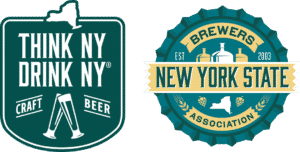 #ThinkNYDrinkNY #keepNYSbrewing