The Official New York STATE Craft Beer App
Produced by The New York State Brewers Association
Explore the New York State Beer Trail®
Visit Breweries + Collect Stamps = Earn Beer Gear
500+ BREWERIES - 1 APP - 2 WAYS TO EARN FREE BEER GEAR
The Official New York State Craft Beer App is the easiest way to find breweries near you with the click of a button, and is the only app that offers a map of every brewery in the state.
The free app offers 2 virtual passport programs, the NYS Brewery Passport & the Empire State Trail Brewery Passport. Collect virtual stamps from each brewery you visit and earn awesome Think New York, Drink New York ® beer gear!
Most importantly, every app download supports the New York State Brewers Association, a non-profit organization that protects and supports NYS craft breweries.
2 integrated passport programs – earn cool rewards and swag.
Find breweries near you with the click on a button.
Map of every brewery in NYS – the only app with this feature!
NEW retail locator (coming soon!)
Discover craft beer festivals & events throughout the state.
Exclusive access to brewery discounts & deals.
Organize your own brewery tours by region.
Stay in the know with craft beer news.
Up to date brewery info including hours of operation, events, menus & more.
AVAILABLE FOR ALL MOBILE DEVICES.

THE EMPIRE STATE TRAIL BREWERY PASSPORT
The New York State Brewers Association has teamed up with the Empire State Trail (EST) and the Canal Corporation to add a 2nd passport program to the official New York State Craft Beer App.
The Empire State Trail Brewery Passport allows users to earn extra stamps and new rewards for visiting breweries located within 10 miles of the EST.
The 750-mile multi-use trail proposed by Governor Andrew Cuomo in 2017 runs from Manhattan north to the northern tip of Lake Champlain, and transversally from Buffalo to Albany.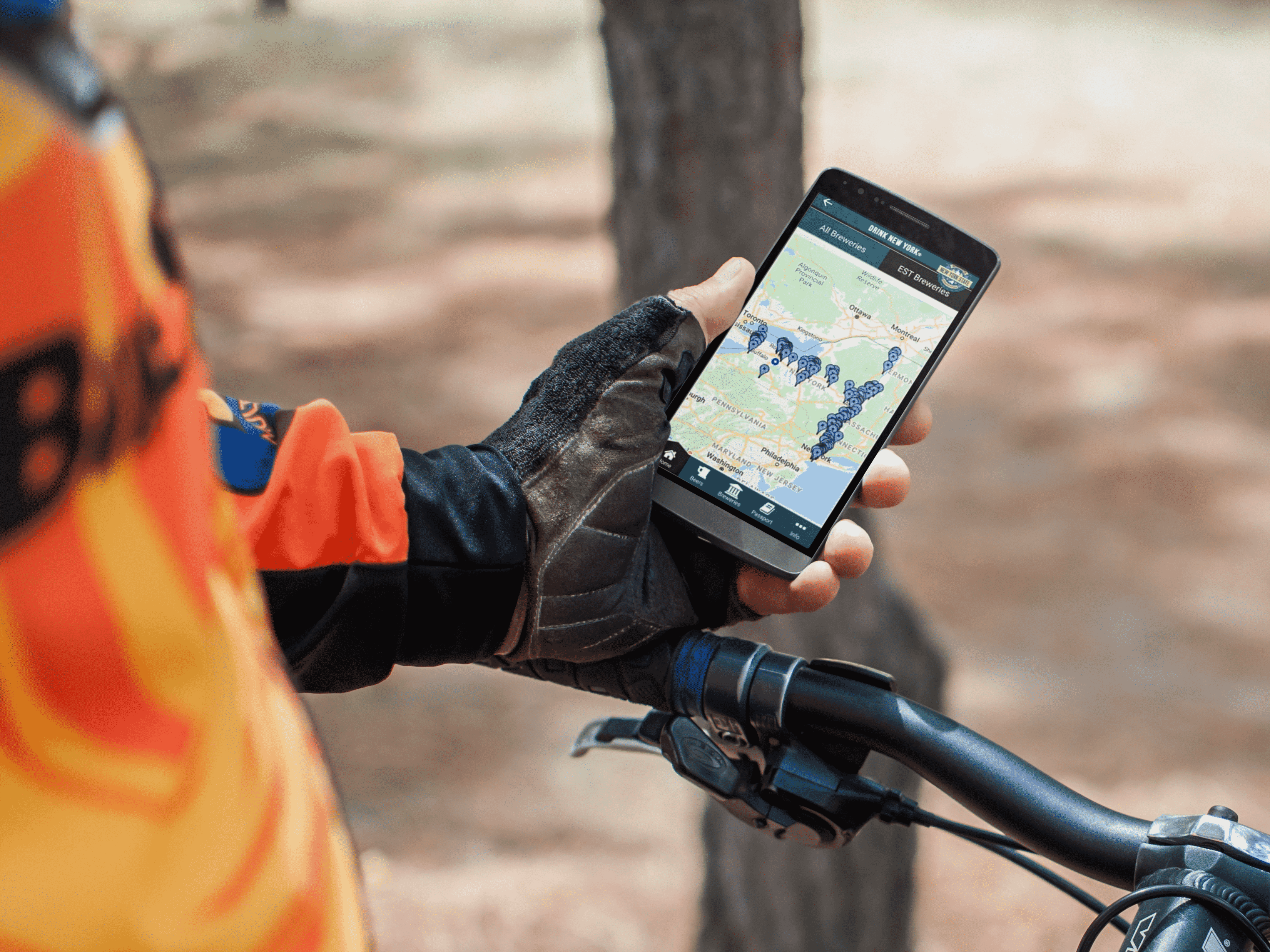 EARN YOUR BEER - GET ACTIVE
Get out, get active, and reward yourself with a fresh NYS craft beer from a brewery along the Empire State Trail.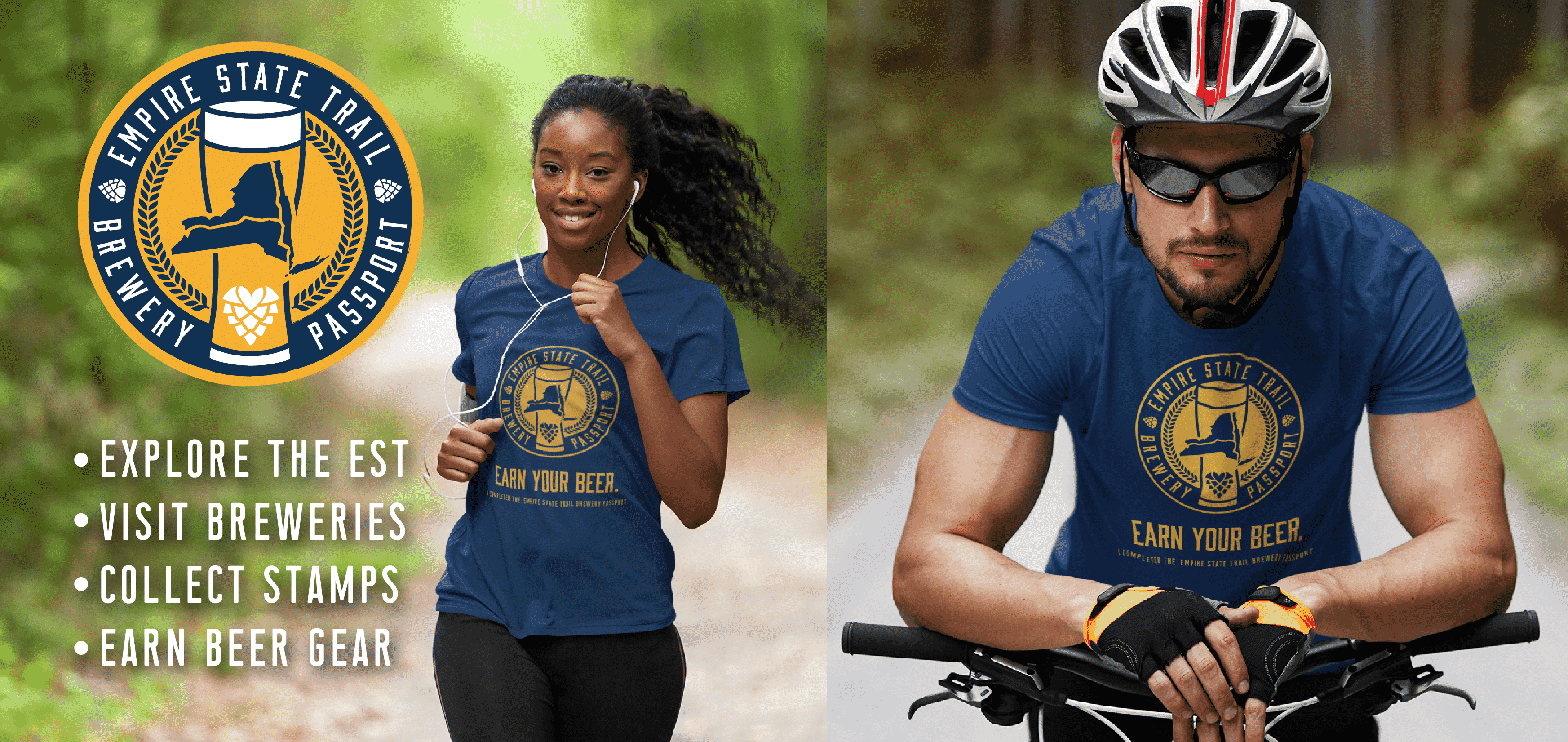 Designed to accomodate shared use by pedestrians and bicyclists, the EST promotes healthy lifestyles, and provides a place for friends and families to experience everything NYS has to offer, including the 200+ breweries that are located along the trail. Much of the trail follows the Erie Canal and Hudson River, inviting kayakers, conoers, and paddleboarders to explore the state's sceneic and historic waterways. The Trail will be open to winter uses such as hiking, snowshoeing, and cross-country skiing. Snowmobiling will continue on designated off-road trail segments where appropriate.
COLLECT STAMPS - EARN REWARDS
If you already have a NYS passport stamp from breweries on the trail, this is your chance to revisit to collect additional stamps for the EST passport to earn new rewards. If you are visiting a brewery for the first time ever that is located along the EST, you will receive a stamp for both the NYS Passport and the EST Passport.
If you currently have the app on your mobile device the EST Brewery Passport will automatically install. If you do not yet have the app, download it today!