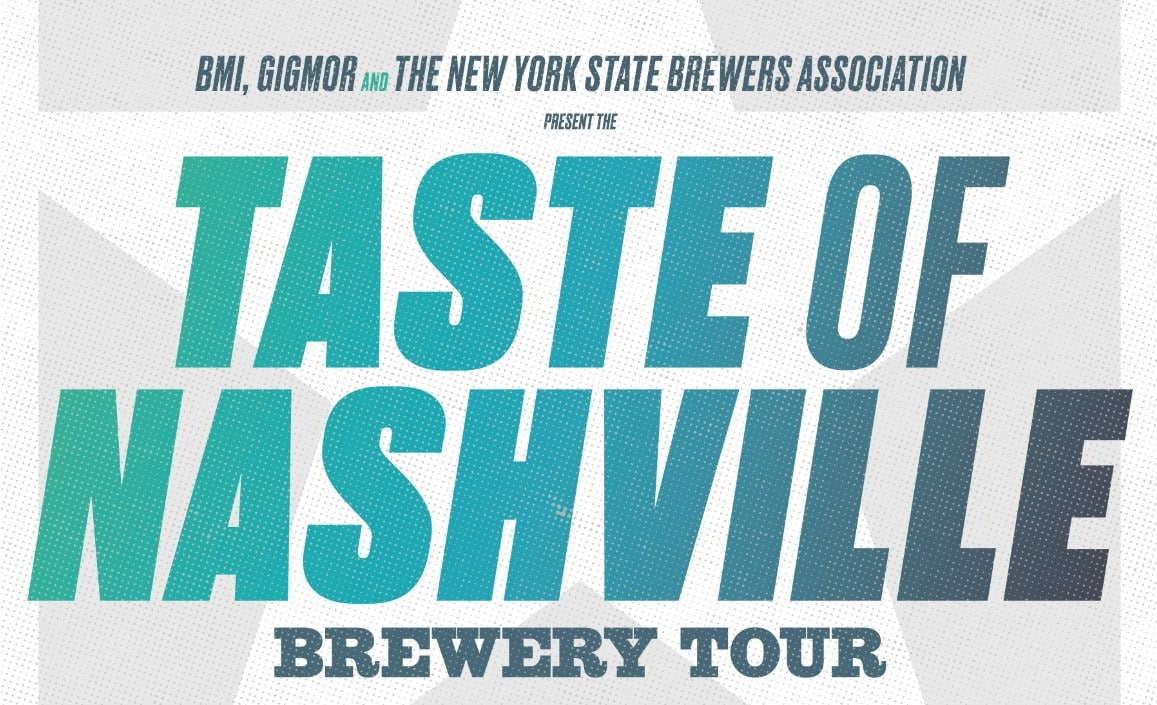 Experience a "Taste of Nashville": Songwriters behind Country Music Hits to Tour NYS Breweries
BMI (Broadcast Music, Inc.) is partnering with Gigmor and the New York State Brewers Association (NYSBA) to bring the  "Taste of Nashville" Tour to breweries across upstate New York. Hitting cities from Clifton Park to Hamilton and everywhere in between, the tour kicks off on Tuesday, August 23rd and wraps up on Saturday, August 27th. Showcasing two of BMI's top Nashville
songwriters, these concerts are free and open to the public.
Each night will feature performances from BMI songwriters Clint Daniels and Tim James who will bring a taste of Nashville's Bluebird Café "songwriter in the round" tradition to the north. The songwriters, who have penned hits for Nashville heavyweights Trace Adkins, Eric Church, Toby Keith, and many more, will give concertgoers a unique opportunity to hear the stories behind some of country music's biggest hits straight from the writers themselves.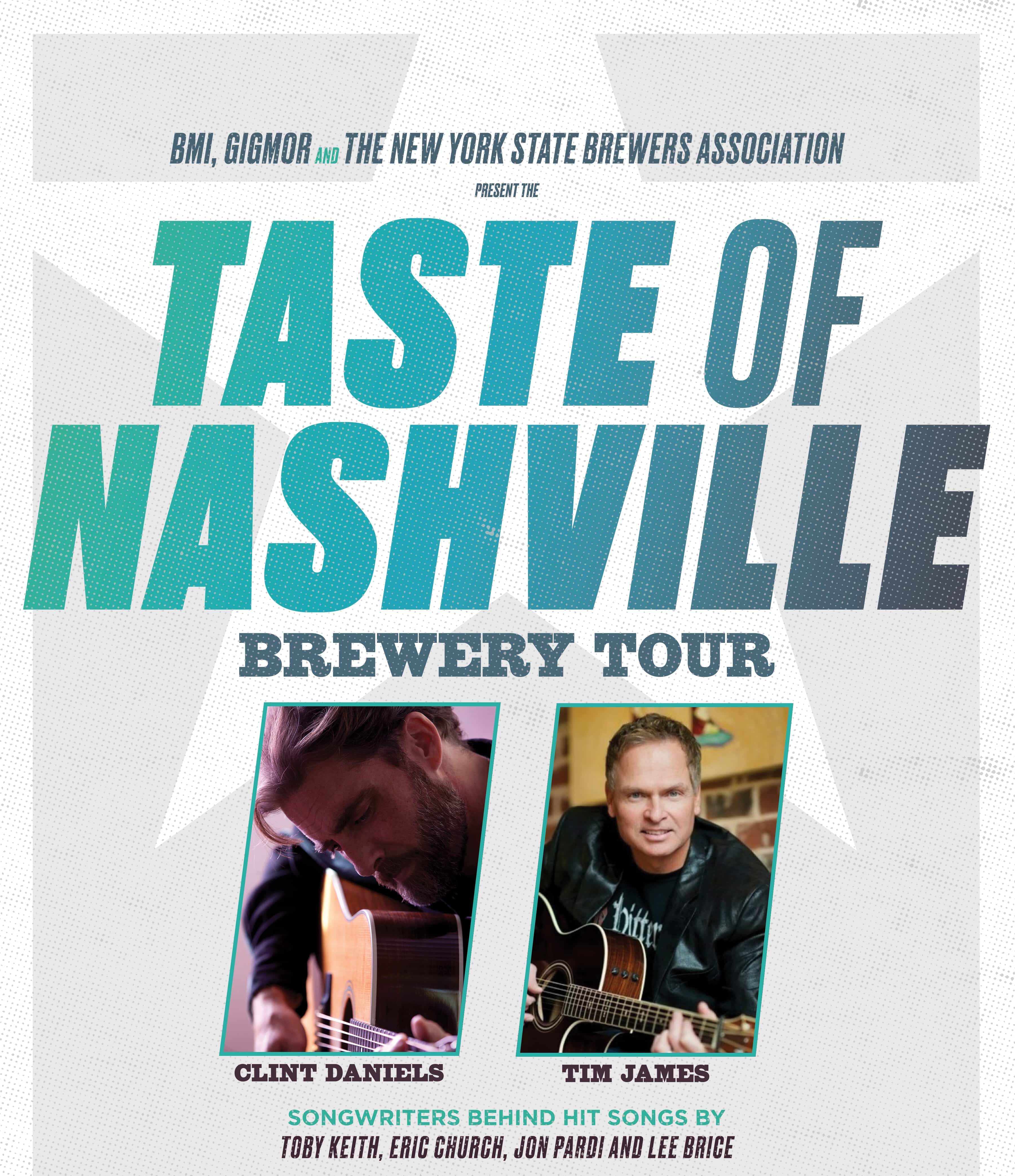 "BMI is thrilled to partner with Gigmor and the NYSBA to bring some of our songwriters to breweries across upstate New York," said Dan Spears, VP, Industry Relations, BMI. "This tour will highlight the value that music brings to establishments across the country, and in my eyes, it doesn't get much better than listening to live music on a summer night with a cold brew in hand."
"Both breweries and music are synonymous with bringing people together," said Paul Leone, Executive Director, NYSBA. "By partnering with BMI, we're showcasing two amazing songwriters at some of New York's top breweries, and with Gigmor, we're introducing an easy and cost-effective way to book musical performances. We're looking forward to five nights of great music, cold beer and good times."
See the full schedule below to find a brewery performance nearest you.
"Taste of Nashville" Tour Dates:
Tuesday, 8/23 at 6PM – Single Cut North Brewery Clifton Park, NY
Wednesday, 8/24 at 6PM – Prison City Brewing Auburn, NY
Thursday, 8/25 at 7PM – Common Roots Brewing South Glen Falls, NY
Friday, 8/26 at 7PM – Saranac Brewery Utica, NY
Saturday, 8/27 at 4PM – Good Nature Farm Brewery Hamilton, NY
ABOUT THE ARTISTS
Clint Daniels is an American country music singer and songwriter. He was signed as a solo artist with Arista Nashville in 1998. There, Daniels released four songs, two of which charted on Billboard's Hot Country Songs. In 2003, Daniels signed with Epic Records but never released an album. Having already co-written his first Number One single for Joe Nichols ("Brokenheartsville"), he focused his career on songwriting and has been primarily known for his songwriting and performing at showcases across the country. As a BMI award-winning songwriter, Daniels has co-written Number One singles for Joe Nichols, Montgomery Gentry ("Roll With Me") and most recently, Eric Church ("Some Of It"). His songs have helped shape country music for almost 20 years and have been recorded by George Strait, Alan Jackson, Brooks & Dunn, Clay Walker, Easton Corbin, Jon Pardi, Brandy Clark and other country acts. In 2019, Daniels signed a co-venture publishing deal with BMG and Porchlight Music. In 2020, he was both nominated for a GRAMMY (country song of the year) and an ACM for the song, "Some of It".
A GRAMMY award-winning songwriter, Tim James is the co-writer of the 5 week #1 "My List" by Toby Keith, the Bucky Covington Top 10 "It's Good To Be Us", and the smash debut from the Lost Trailers "Holler Back". James has had over 50 major label cuts by artists such as Alabama, Darius Rucker, Craig Morgan, Chris Young, Montgomery Gentry, LeeAnn Womack, Joe Nichols, Buddy Jewel, Josh Turner and contemporary Christian artist Point of Grace. James penned the Trace Adkins single "All I Ask For Anymore", which was nominated for a Grammy Award for Best Country Song of 2009, and the 2010 Billboard song of the year and #1 "Love Like Crazy", by Lee Brice. "Love Like Crazy" was nominated for ACM song of the year in 2010 and broke a record for consecutive weeks on the charts. James also wrote the Rodney Atkins single "He's Mine", the George Strait #1 single "Give It All We Got Tonight", and the title track and single from the Darius Rucker album "Southern Style". James also penned the single, "Either Way", from the GRAMMY-winning Chris Stapleton album entitled "From A Room, Volume 1".
For live music booking made easy, check out Gigmor, to learn more.
ABOUT BMI
Celebrating over 80 years of service to songwriters, composers, music publishers and businesses, Broadcast Music, Inc.® (BMI®) is a global leader in music rights management, serving as an advocate for the value of music. BMI represents the public performance rights in over 18.7 million musical works created and owned by more than 1.2 million songwriters, composers, and music publishers. The Company negotiates music license agreements and distributes the fees it generates as royalties to its affiliated writers and publishers when their songs are performed in public. In 1939, BMI created a groundbreaking open-door policy becoming the only performing rights organization to welcome and represent the creators of blues, jazz, country, and American roots music. Today, the musical compositions in BMI's repertoire, from chart toppers to perennial favorites, span all genres of music and are consistently among the most-performed hits of the year. For additional information and the latest BMI news, visit bmi.com, follow us on Twitter and Instagram @BMI or stay connected through Broadcast Music, Inc.'s Facebook page. Sign up for BMI's The Weekly™ and receive our e-newsletter every week to stay up to date on all things music.