fifth hammer x tin barn x prison city
SAT APRIL 23 • 4:00-6:30PM • YOUR HOME
Beer from NYS is as diverse as the state itself. Visiting and touring New York's nearly 500 unique breweries is an exciting aspect of the craft beer culture....meeting the people behind the beer we love and hearing the stories gives us a greater appreciation for the craft.
On Saturday, April 23rd, the New York State Brewers Association is bringing the experience of visiting 3 NYS breweries right to your living room - beer, tasting glasses & snacks included! In addition to receiving beer from each brewery pass holders will also receive an exclusive 3-way collaboration beer from the participating breweries.
Your purchase helps breweries. Proceeds benefit the New York State Brewers Association and will be used to directly support the craft beer industry. #thinkNYdrinkNY
1) NYS Craft Beer Box shipped to your home containing:
Premium craft beer from 3 NYS breweries (Fifth Hammer, Tin Barn, & Prison City) totaling 192oz. You will receive 1-2 styles from each brewery plus six 16oz cans of an exclusive 3-way collaboration beer from participating breweries.
Cheese from Muranda Cheese Company
Genoa Salami from Schrader Farms
Crafted Chocolates from Sweet on Chocolates
Hot Crispy Oil
4 Think New York, Drink New York branded tasting glasses
4 tasting cards
NYS craft beer sticker bundle
2) Exclusive access to a 2 hour interactive tasting experience (via Zoom) where you will share beer & conversation with the brewers and owners. Ask questions, learn about the history of each brewery and their creative process, + receive a behind the scenes look at each brewery's production facility.
NYS virtual tasting experiences are carefully planned and coordinated by the NYSBA, ensuring high video and audio quality for the ultimate virtual experience.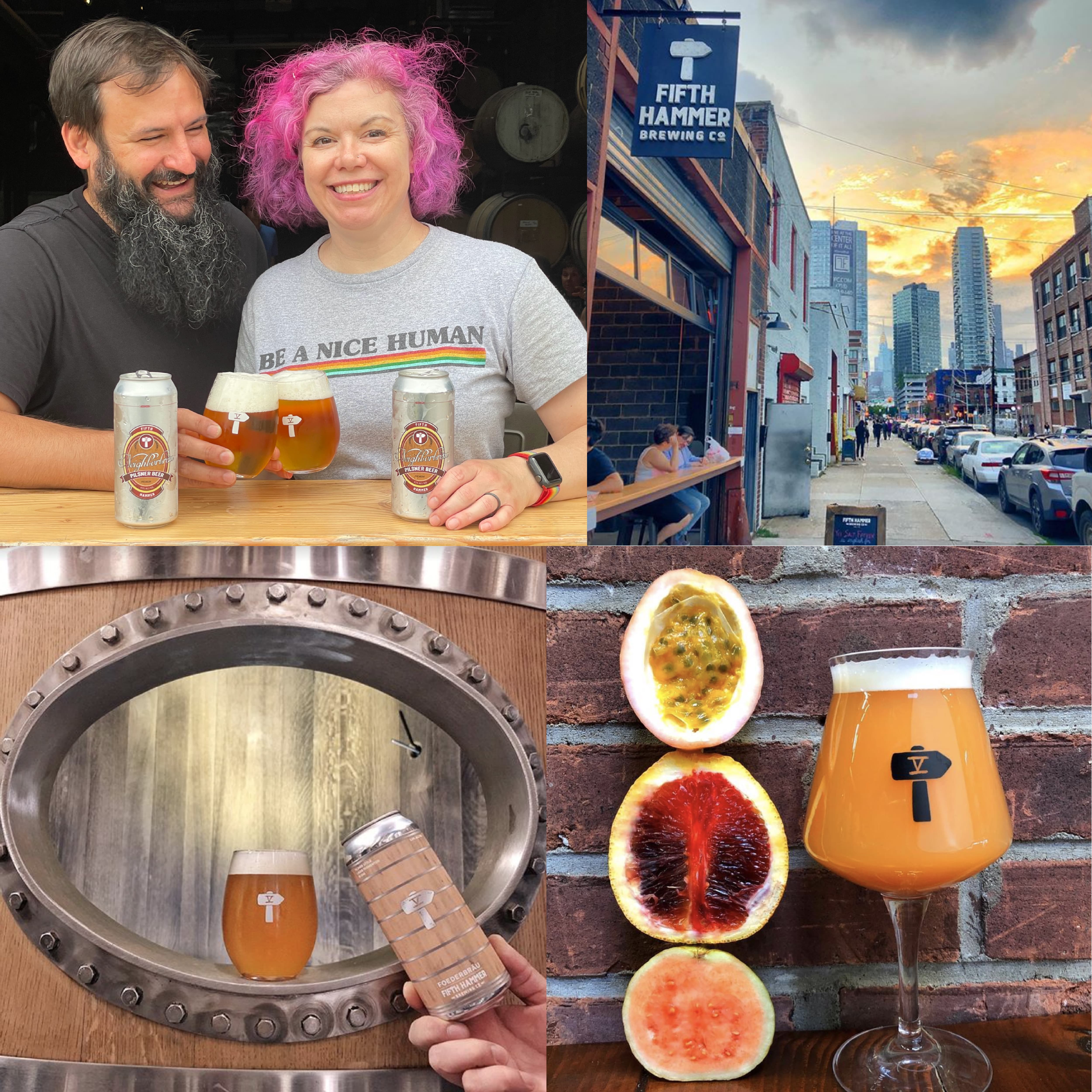 Chris Cuzme, Owner/Brewer
Mary Izett, Owner/Multitasker
Sound Of Science • Double IPA • 8.5% ABV • 10 IBU
This vibrant and juicy 8.5% New England Double IPA features Strata, Mosaic, Citra and Vic Secret hops for a mélange of tropical deliciousness.
Poglodyte • American Sour Ale with Passion Fruit, Orange, Guava • 5.5% ABV • 7 IBU
This foeder fermented Amercian Sour is brewed with passion fruit, blood orange and guava. Poglodyte is a lush beverage that packs a flavorful punch. POG is itself a very popular juice blend from Hawaii & our mouths do the hula with every sip of this nod to the beautiful island of the Pacific.
Prison City Pub & Brewery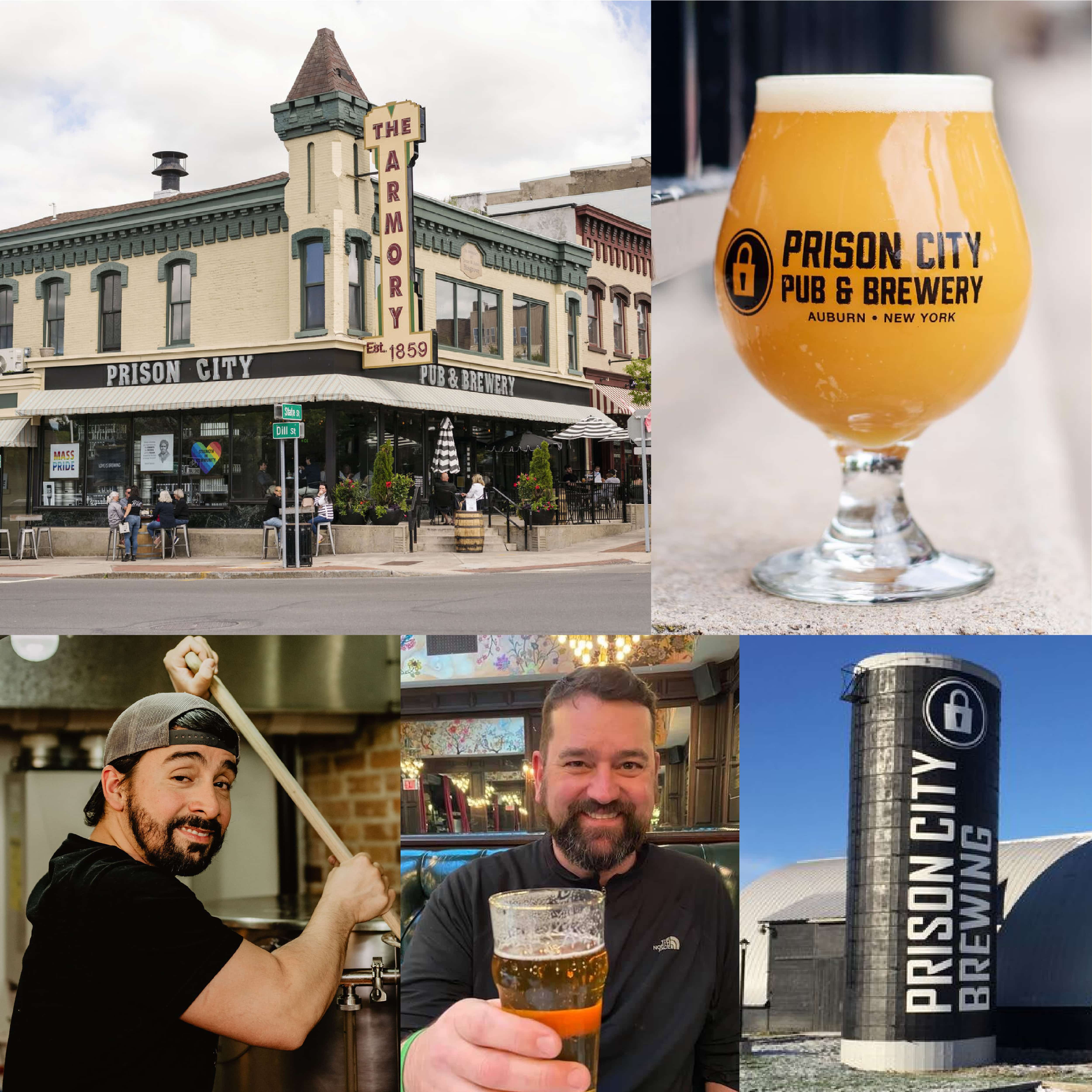 Marc Schulz - Co-Owner
Ben Maeso - Brewer
Citra Oasis • Hazy Double IPA • 8% ABV
Oat heavy DIPA with exclusively citra in the boil and the dry hop.
Tangerine Wit • Belgian Style Witbier • 5% ABV
GABF Silver Medal! Brewed with tangerine puree.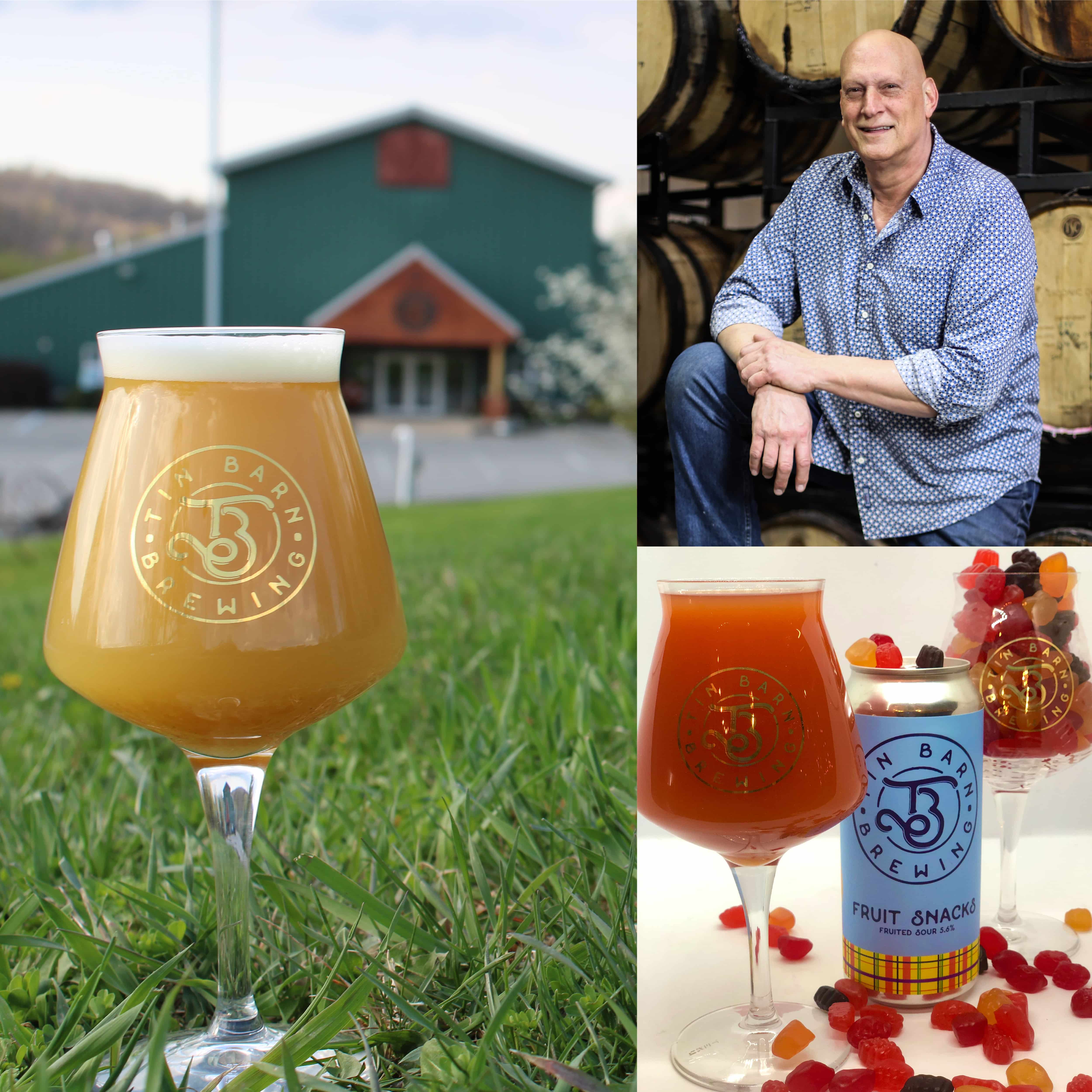 Juicissippi Queen • New England Style Triple IPA • 9.4% ABV 
This Triple New England IPA is an absolute Mountain of flavor featuring Nelson Sauvin, on of our new favorites, and Citra, simply the juiciest hop ever. If Citra brings the juice, then Nelson adds a punch of strong gooseberry, white grape, and melon. At 9.4%, she will satisfy the greediest hop appetites. Juiceissippi Queen, she taught me everything . . .
Fruit Snacks • Fruited Sour Ale • 5.6% ABV 
Is this sour ale made out of real fruits or gummy bears? We're not sure... and we don't care! Peach, apricot, mango, strawberry, raspberry and mixed berry — so many fruit flavors we've got our fruit intake covered for the day! It's like eating an entire package of fruit snacks at once.
The Time The Time! • American Fruited Sour • 6% ABV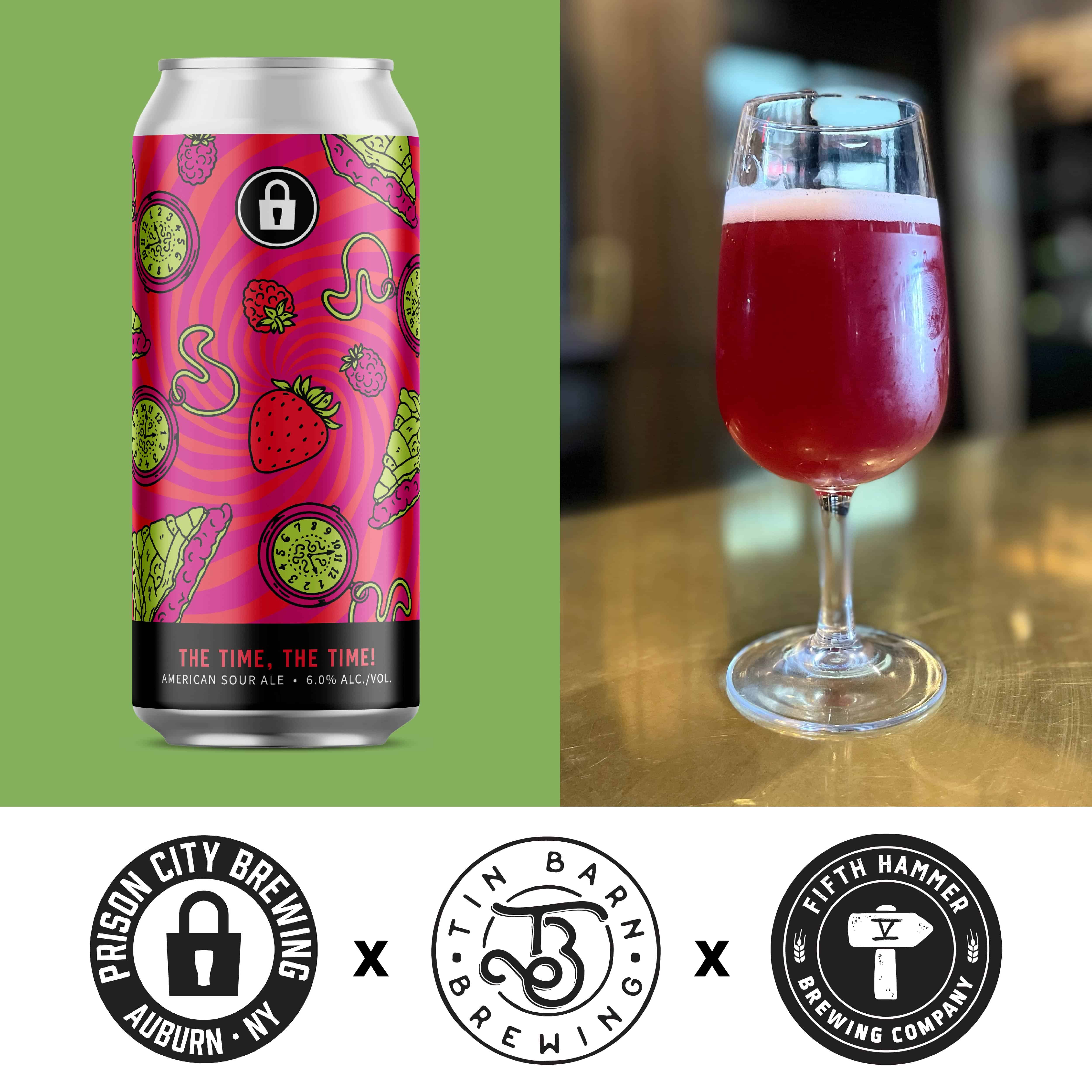 This Fruited Sour is conditioned on bountiful amounts of Blackberries, Raspberries, Strawberrries, & Rhubarb. A delicious berry picking-adventure!
Brewed by Fifth Hammer Brewing, Prison City Pub & Brewery, and Tin Barn Brewing in support of the New York State Brewers Association for the NYS 3-Way Collab and Virtual Imbibe.
In addition to receiving the collaboration beer, each box will also contain unique beers (one 16oz can of each) from each brewery.
Red Rider Cheese • Muranda Cheese Company • Waterloo, NY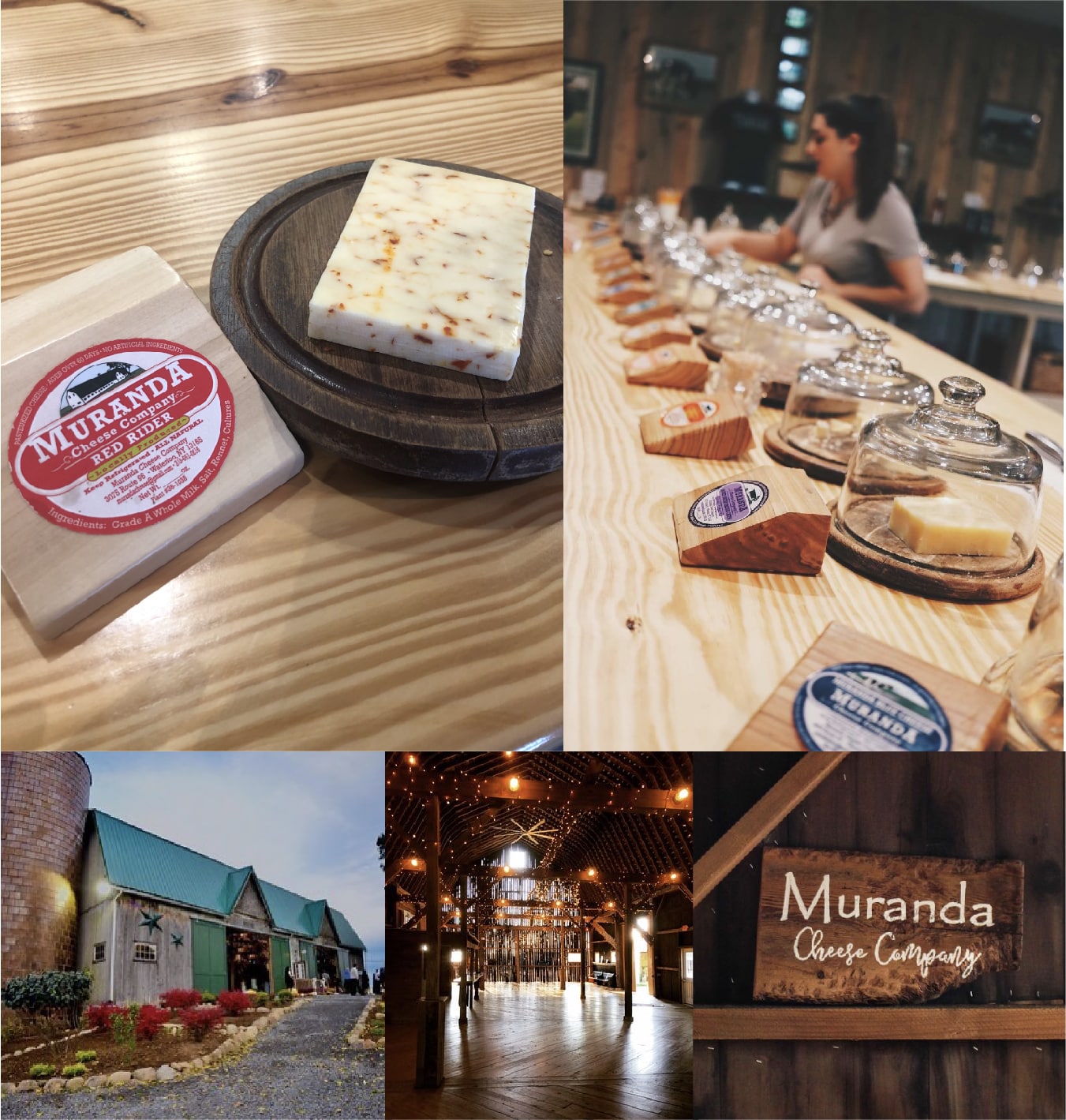 Muranda Cheese Company was born in late 2007 when the Murray family decided it was time to direct market their products to consumers. Today the farm helps to produce over 17 types of cheeses that have been recognized for their superior artisanal quality.
Muranda Red Rider Cheese is a roasted red pepper flake cheddar that starts slow with heat as you first taste it then picks up towards the end. Pairs perfectly with an ice cold beer, especially an IPA!
Genoa Salami • Schrader Farms • Romulus, NY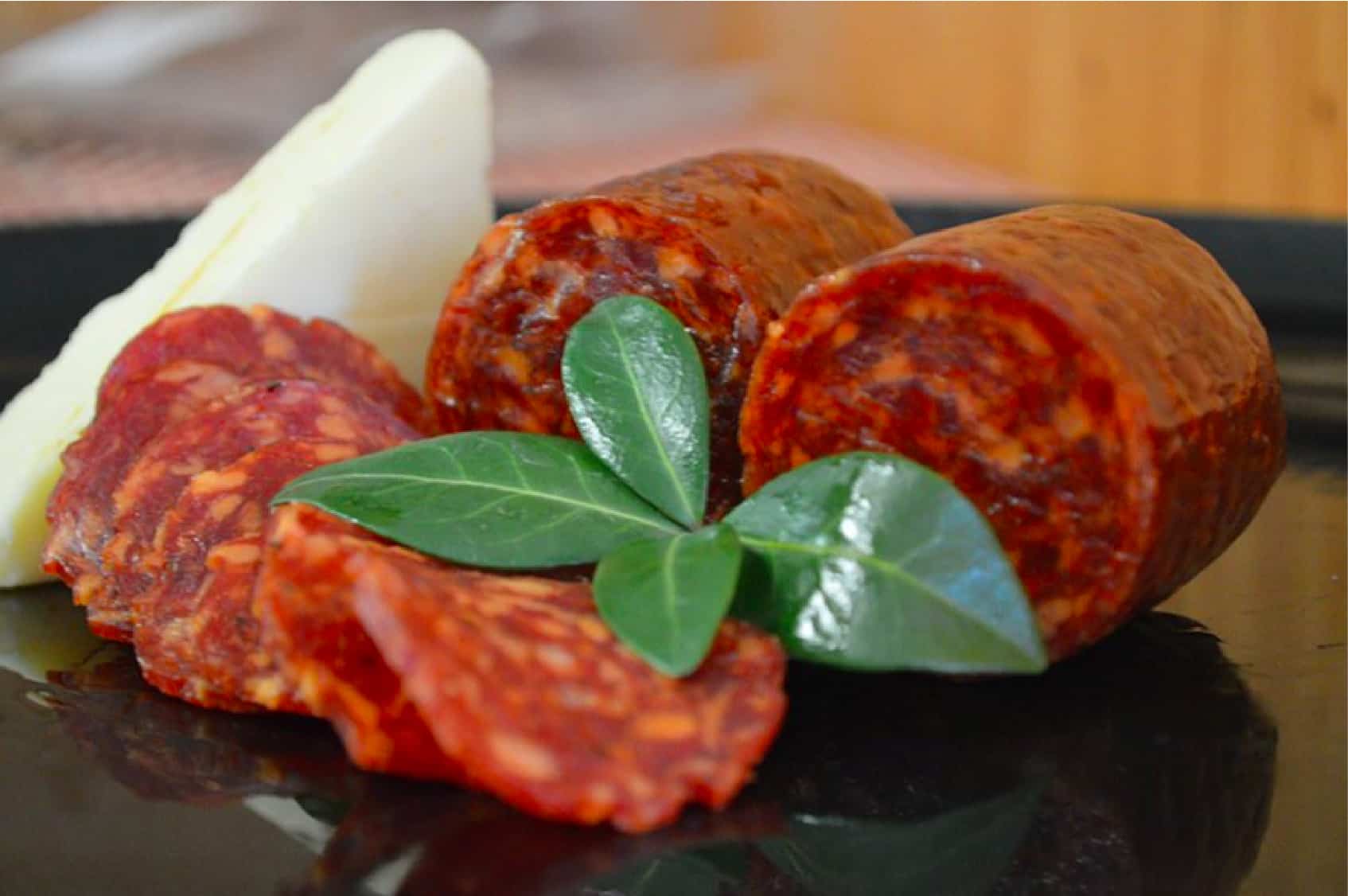 Schrader Farms Meat Market is a small meat processing facility and retail store in Romulus, NY. They're your source for high quality, locally-grown meat and honest, reliable, and trustworthy service.
Schrader Farms Genoa Salami is made with NYS dry red wine and locally sourced beef and pork, raised naturally with no added hormones. It is smoked on the premises, then dried in our climate controlled drying room by Will, the heart and talent behind their delicious line of charcuterie products.
Hot Crispy Oil • Albany, NY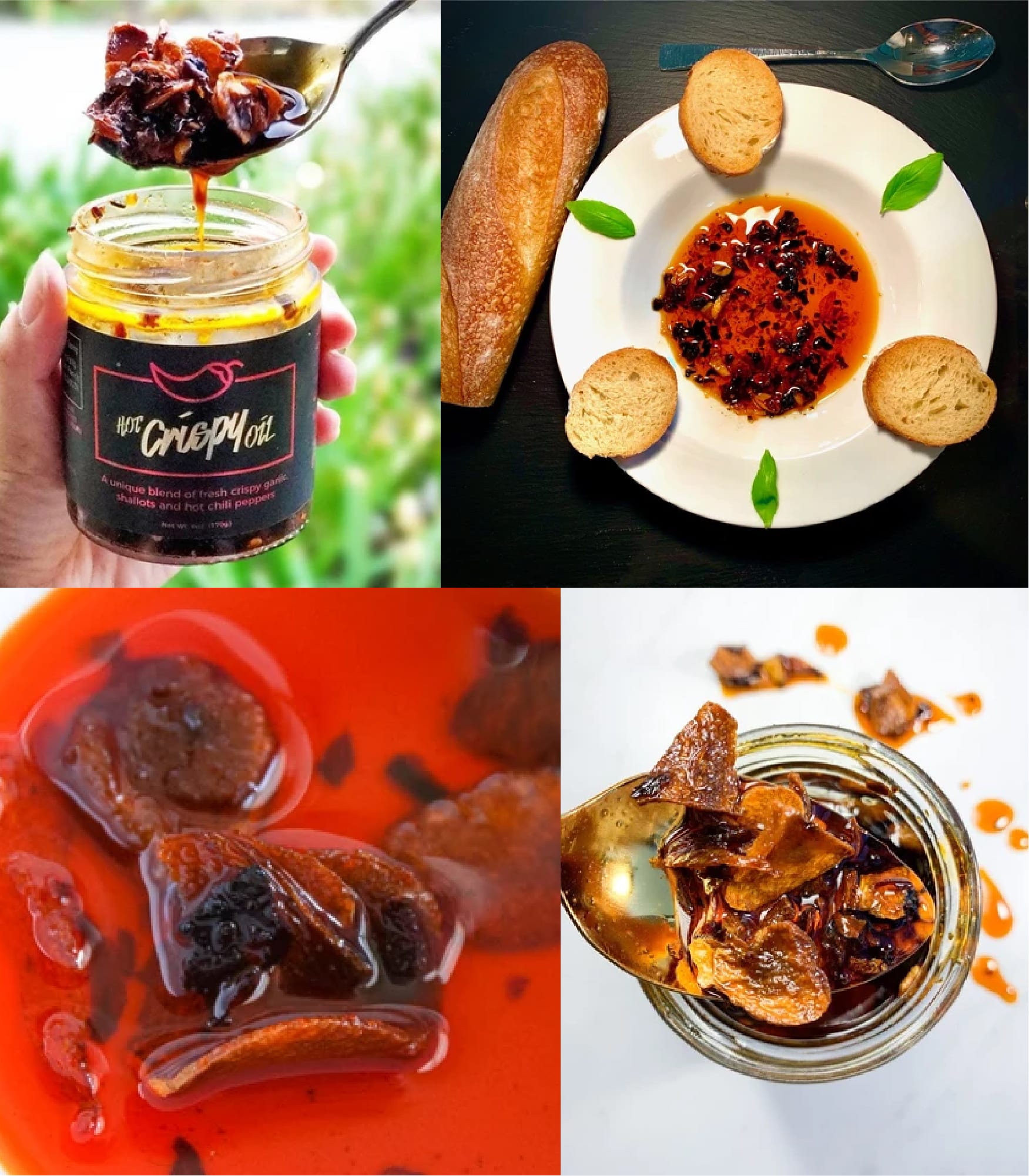 Hand-crafted in small batch style in the state of New York, this one of a kind product makes a great addition to any fully-equipped commercial or home kitchen.
Hot Crispy Oil is a unique recipe of blended extra virgin olive oil, fresh fried garlic, shallots, and chili peppers makes for the perfect combination of heat and flavor. Great for cooking, dipping, dressings, savory fare and more.
Sweet on Chocolate • Syracuse, NY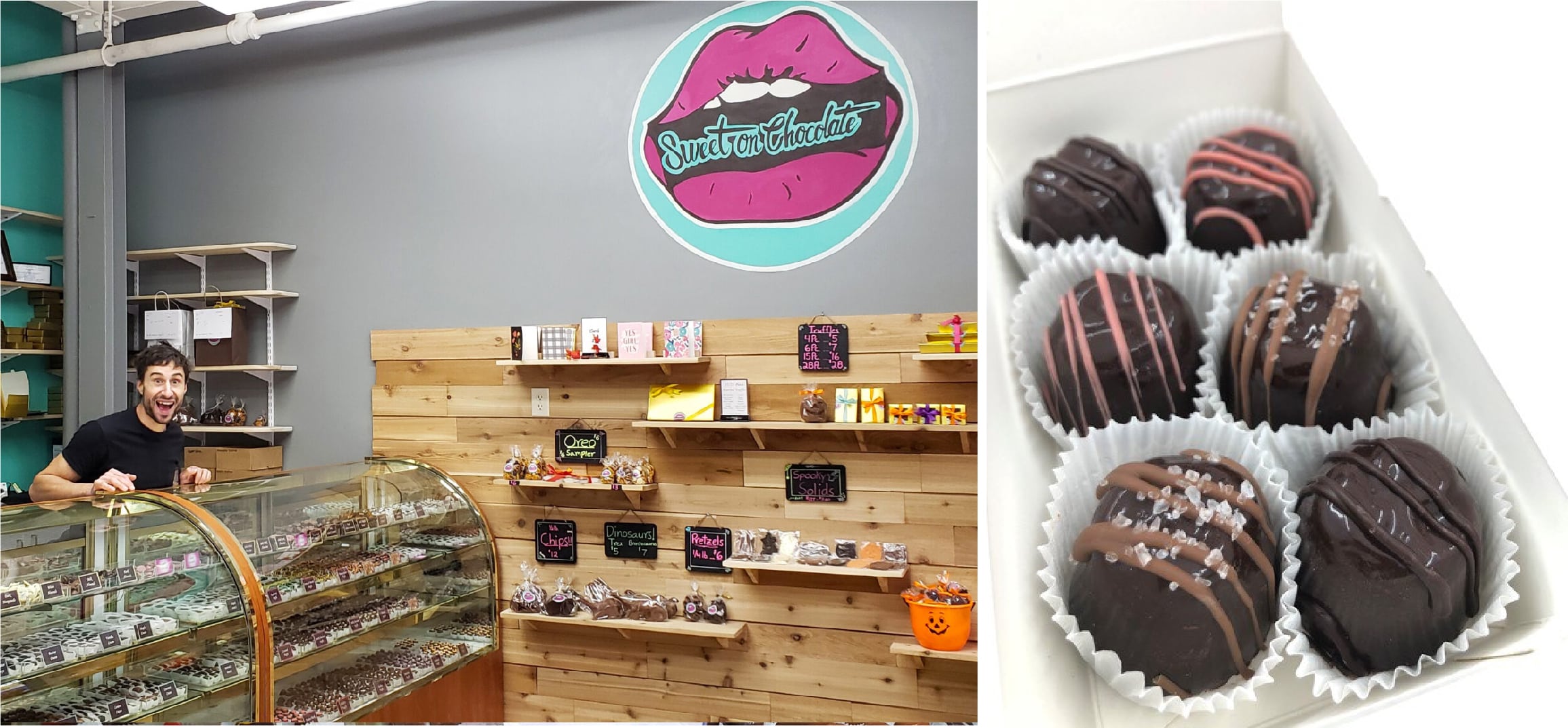 Established in 1993, Sweet on Chocolate has gained a reputation for producing the highest quality, handmade chocolates in Central New York. Sweet on Chocolate's confections have reached national acclaim and have even been enjoyed internationally. Featured chocolates and truffles to be announced.
Thanks to our friends at Half Time Beverage shipment is available to 7 states!
Packages will be shipped to ticket holders 4/12-4/14 prior to the event.
Must be at leaste 21+ years of age to sign for package & live in one of the following states to participate.
CT, DC, MA, NH, NY, NJ, PA
Tickets are designed to be enjoyed by 1-4 people.
MUST BE AT LEAST 21 YEARS OF AGE TO PURCHASE PASSES & ATTEND.
your purchase helps nys breweries
Proceeds benefit the New York State Brewers Association & directly support the craft beer industry. #keepNYSbrewing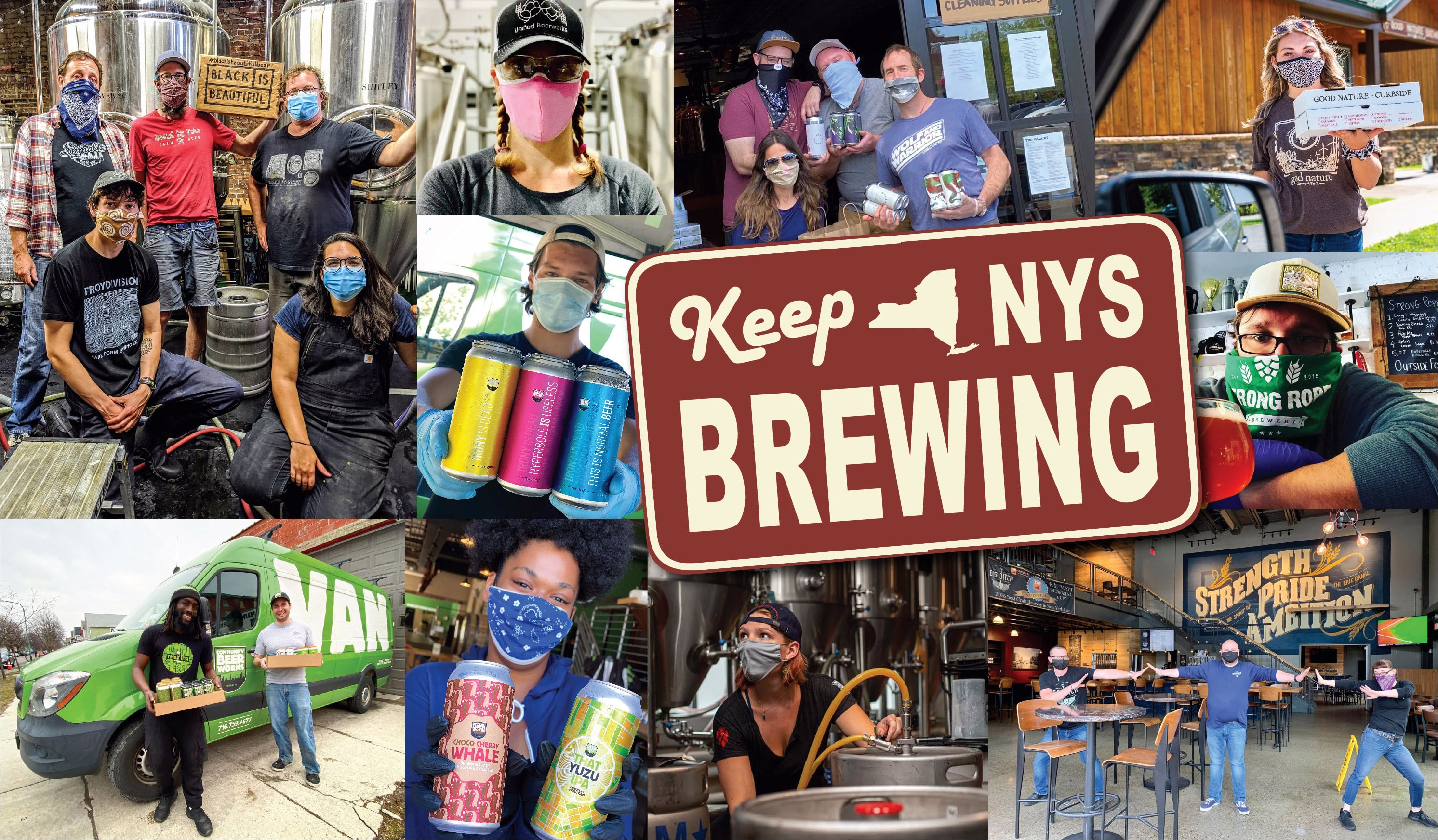 The New York State Brewers Association (NYSBA), is a non-profit organization that supports the craft beer industry through advocacy and education.
Profits will be used to directly support the craft beer industry. Fighting for temporary permitance of services like home delivery, curbside pickup, and shipment of beer are a few of the ways the NYSBA has been able to help NYS breweries remain open during the Covid-19 pandemic.
Your contribution is appreciated, and will allow the NYSBA to continue to support the craft beer community through these difficult times and beyond. #keepNYSbrewing #thinkNYdrinkNY
WHAT PEOPLE ARE SAYING...
"The virtual event was a lot of fun! We loved the super-social atmosphere and the interchange between the brewer and the attendees." - Matt S.
"Just wanted to reach out and say thanks for all your hard work on the virtual tasting yesterday. It was an awesome experience and I'll for sure be signing up for the next one!" - Jason L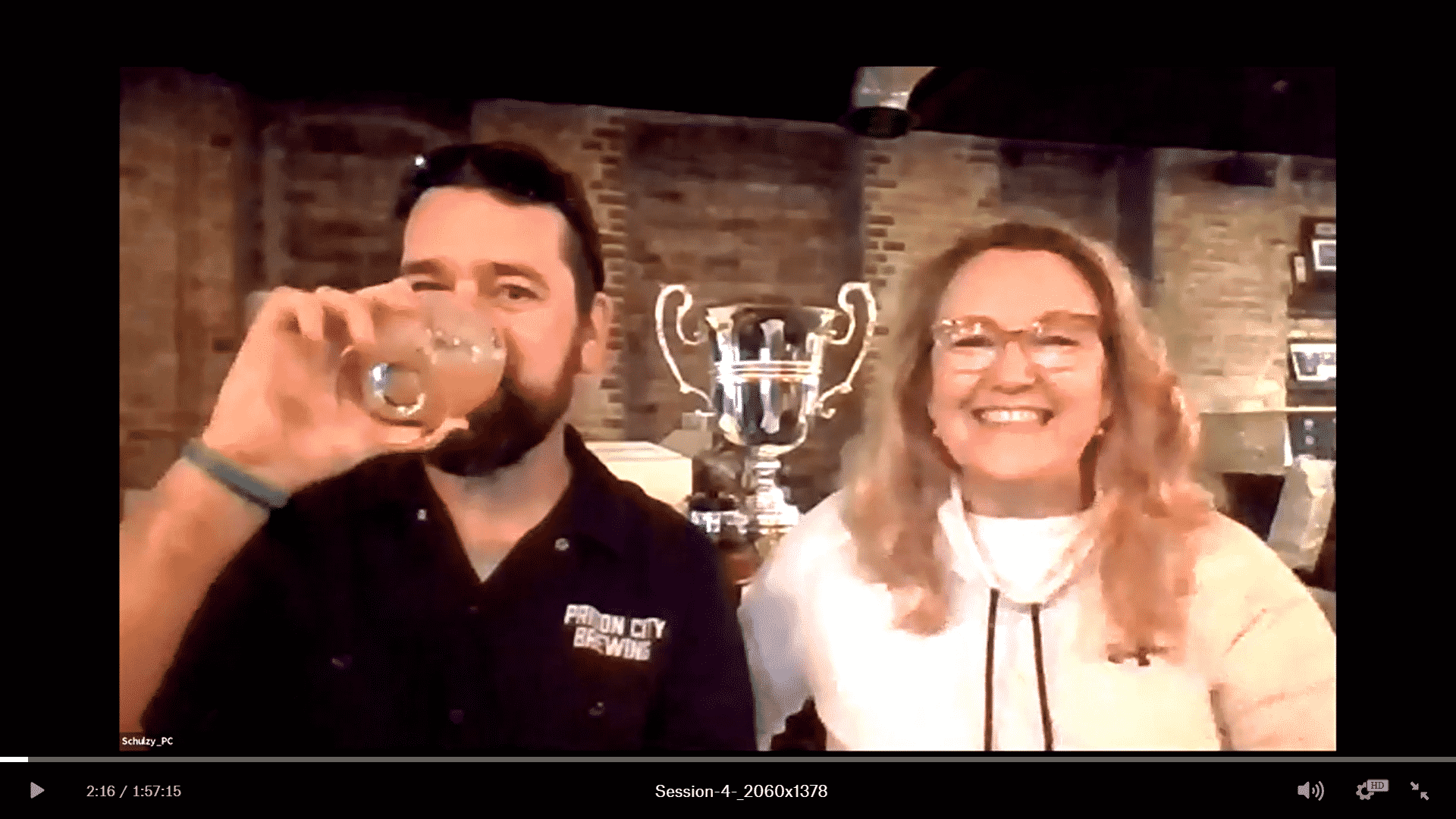 "Dawn and I had an absolute blast doing the virtual event! It was a fantastic way to connect with beer fans across NYS that haven't been to our pub or had our beer AND folks that have that we've missed during these strange times." - Mark Schulz, Co-Owner of Prison City Pub & Brewery
TERMS & CONDITIONS:
MUST BE AT LEAST 21 YEARS OF AGE TO PURCHASE AND ATTEND.
MUST LIVE IN ONE OF THE 7 STATES THAT BEER CAN BE SHIPPED TO.
MUST BE 21+ YEARS OF AGE TO ACCEPT AND SIGN FOR PACKAGE.
NYSBA IS NOT RESPONSIBLE FOR DAMAGED PACKAGES
BEER STYLES SUBJECT TO CHANGE
NO REFUNDS
PARTICIPANTS CAN BE REMOVED FROM THE EVENT AT ANY TIME FOR DISRUPTIVE OR INAPPROPRIATE BEHAVIOR, NO REFUND WILL BE ISSUED.