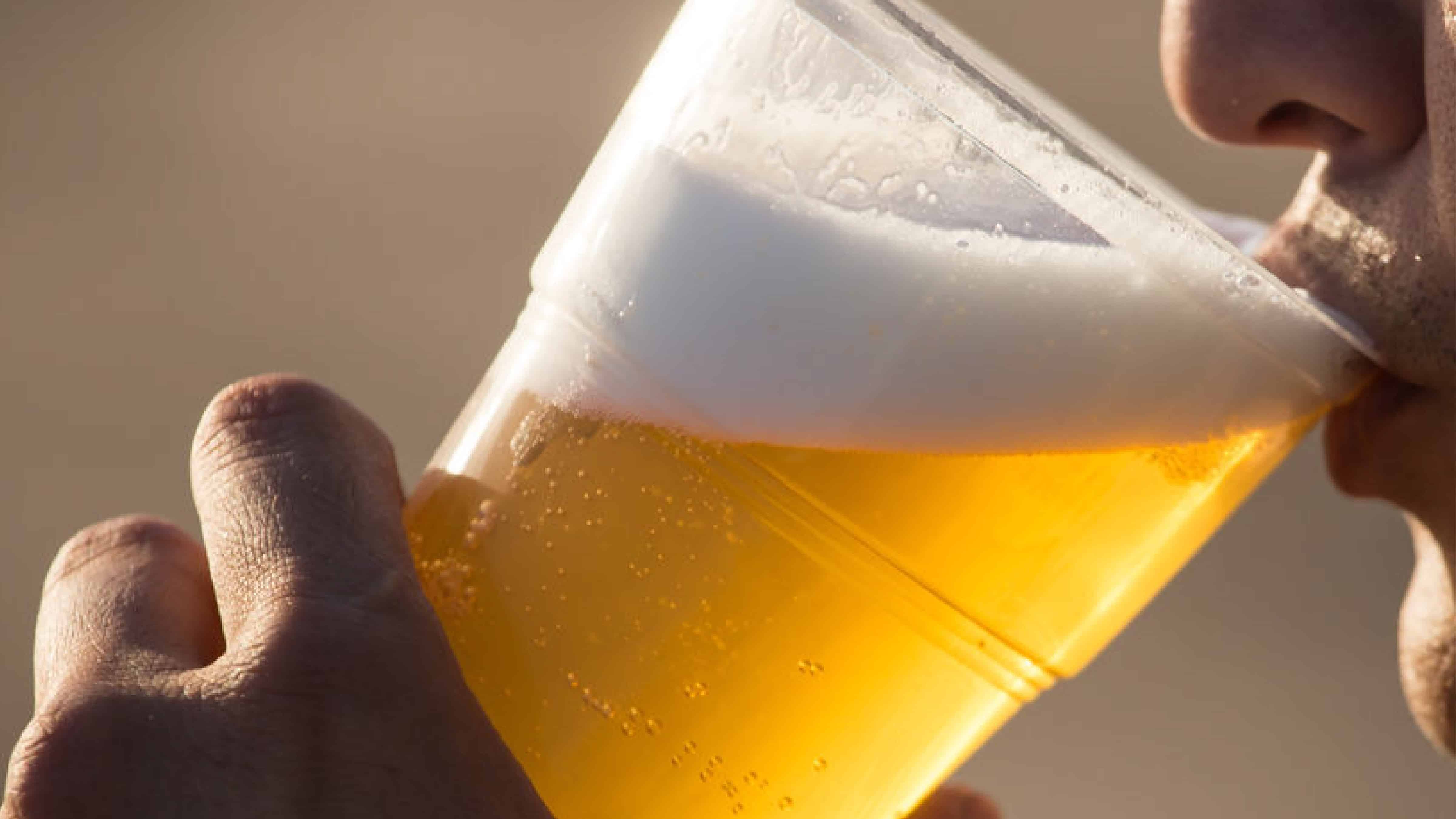 New York State Breweries Begin to Reopen
It is an exciting time for the craft beer community as breweries in some regions of NYS begin to welcome customers back to their taprooms for the first time in over 3 months.
Breweries in Phase 3 regions are permitted to open indoor and outdoor spaces with seating for on-premise consumption of food and alcohol in accordance to the New York State Department of Health (DOH) "Interim Guidance for Outdoor and Take-Out/Deliver Food Services During the COVID-19 Public Health Emergency."
Breweries in Phase 2 regions are permitted to open outdoor spaces with seating for on-premise consumption under the same guidance.
---
Some of the minimum requirements breweries must meet include but are not limited to are:
REDUCED CAPACITY

Indoor spaces must be limited to 50% capacity.

Outdoor capacity is limited to the number of tables that can be safely and appropriately arranged such that each table is a minimum of six feet away from another.

PHYSICAL DISTANCING

Customers must maintain a distance of six feet from other parties at all times.

Employees must maintain a distance of six feet between each other unless the core activity requires a shorter distance.

FACE COVERINGS

Employees must wear face coverings at all times.

Patrons must wear face coverings at all times except while seated.

Face coverings must cover nose and mouth.

SEATING

Indoor and outdoor tables must be separated by a minimum of six feet in all directions.

Wherever distancing between tables is not feasible, physical barriers of at least five feet in height must be enacted.

Responsible parties may allow customers to sit at bar areas provided a distance of at least six feet can be maintained between parties.

Consumption of food and alcohol must only occur while seated at tables or bar tops.

Maximum of 10 people per party, per table.
Please be considerate and respectful of the safety & sanitation guidelines that breweries have put in place when you visit for a pint. Take the New York State Craft Beer Pledge.
---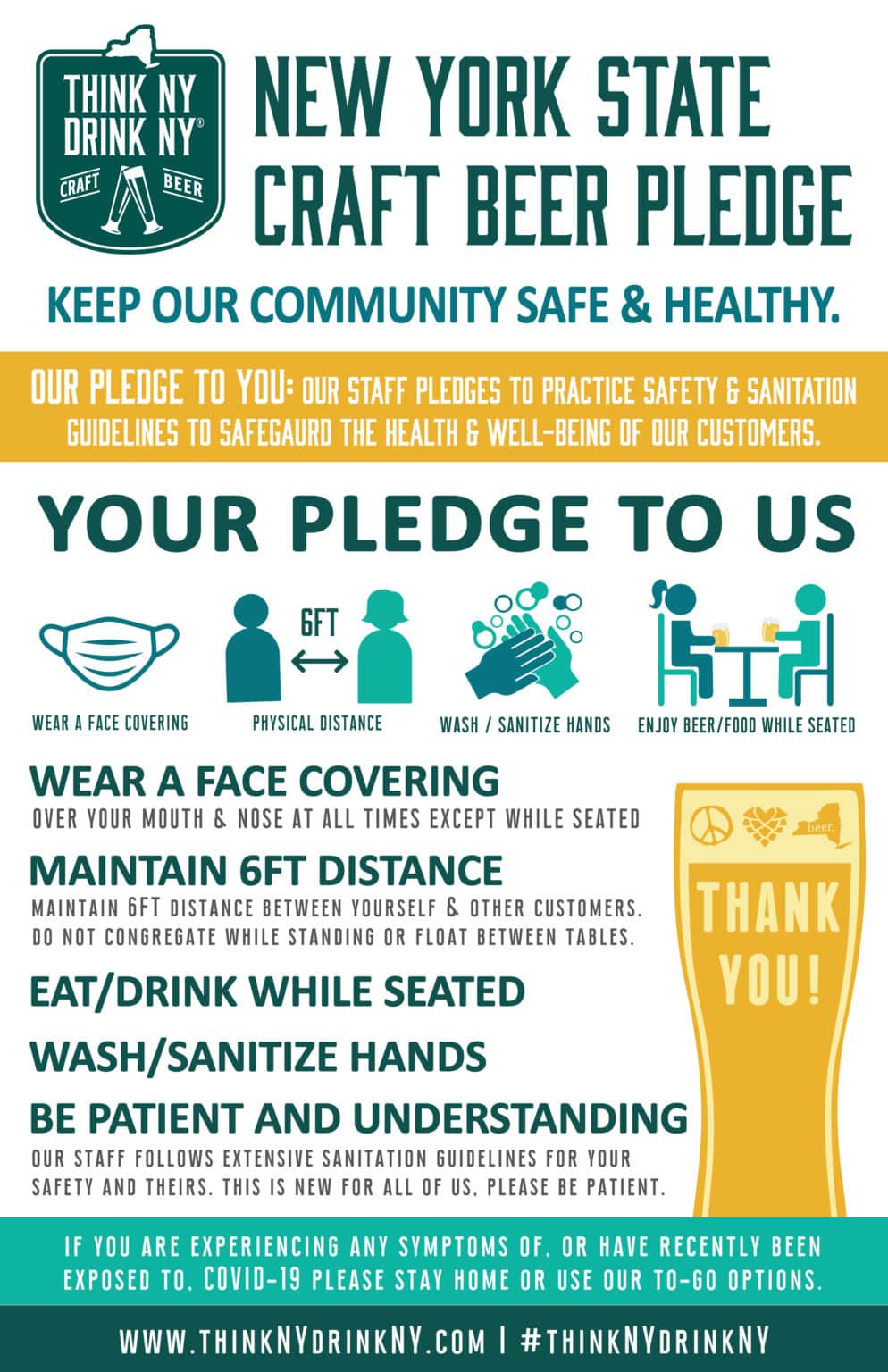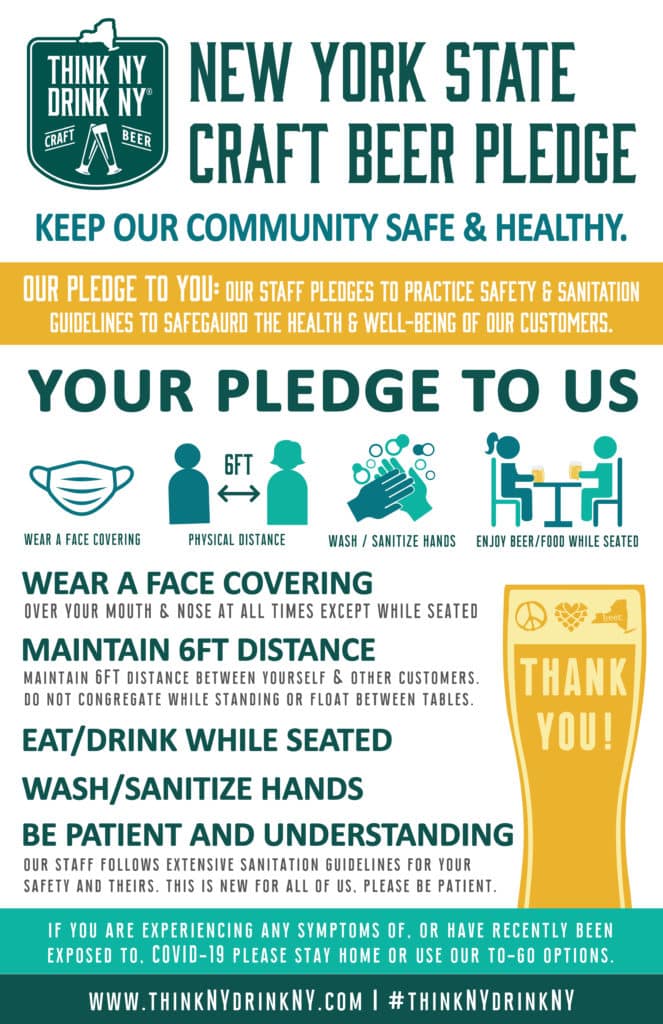 ---
"As breweries begin to reopen, it's important for customers to understand that they are under strict rules that they must abide by in order to stay open. That includes face coverings, physical distancing requirements and sanitation efforts," said Paul Leone, executive director of the New York State Brewers Association. "It's important for everyone to understand and obey the rules set by the brewery so they can continue to operate. We ask everyone to please be patient and please be kind to the employees and owners. They are doing all they can to make your visit a good one."
New York State's craft beer industry is responsible for 20,000 jobs and a 5.4 billion dollar economic impact. A COVID-19 Impact Poll run by the NYSBA revealed that breweries had to furlough 65% of their fulltime employees and 86% of their part time employees during the shutdown. The last three months has been hard on the industry but through innovation and dedication, the craft beer community found ways to support each other. Beer was picked up, delivered, shipped and enjoyed, virtual happy hours and events kept craft social, and over 825 breweries in 53 countries brewed Other Half Brewing Company's "All Together" Worldwide Collaboration to benefit furloughed hospitality workers.
"The craft brewing community in New York continues to be strong in its spirit and actions," explained Rich Vandenburgh, NYSBA Vice President and owner of Greenport Harbor Brewing Company. "Now that we are all beginning to reopen again, there is little doubt that everyone is excited and ready to resume what has been missing for the past three months. The ability to once again offer well made, locally crafted beer to our fans and friends in our outside dining areas and patios has been sorely missed. We are all excited to get back to work, embracing a safe and healthy new construct that allows all of us to enjoy a beer together again."

"I know that all the craft breweries in New York are excited to reopen their doors to both loyal followers and new guests," said Chris Ericson, NYSBA President and owner of Lake Placid Pub & Brewery and Big Slide Brewery & Public House. "Beer is such a social beverage and sharing conversation over a world-class New York-brewed beer is something we all need right now. I hope that our supporters seek out and support NY brewers more than ever before so that we can get back on our feet as soon as possible."
There has never been a better time to head to the taproom and celebrate with a beer socially….at a distance!
#thinkNYdrinkNY